People, Purpose, Planet 2023
1. People, Purpose, Planet
As Milk & Honey PR publishes its fourth People, Purpose, Planet report, it's time to step up for purposeful business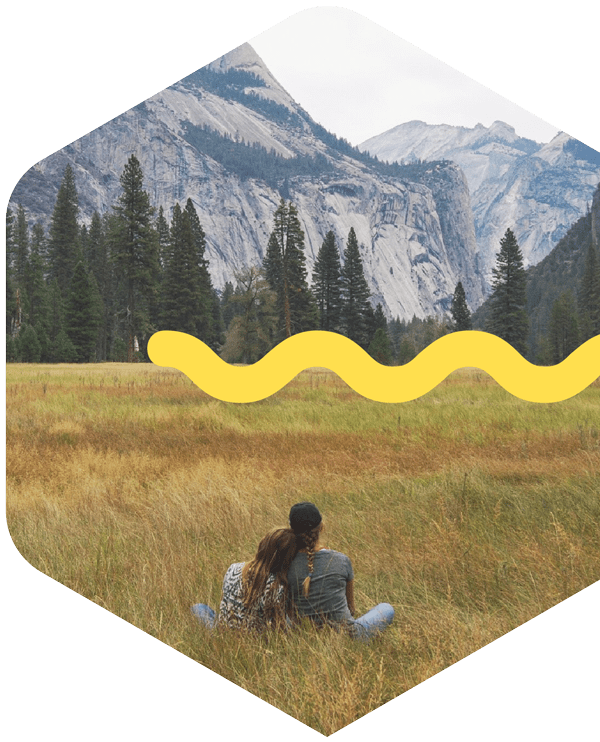 At a time of global instability, there's a temptation to withdraw. The corporate playbook instructs us to batten down the hatches. We believe, however, that now more than ever is the time to be bold. Now is the time to regenerate, not retreat. Now is the time to step up, not back.
B Corp is our framework so we have doubled down. In the past year we have worked hard to further our mission of creating a business that benefits people, communities and the planet. It's work that has paid off – we have grown our B Corp score by 70 assessment points to become the highest scoring B Corp agency in the world. It's something we're proud of because B Corp is about impact.
In the past year we have launched our pro bono 'Purpose Academy', which works with smaller charities to help them achieve the biggest aims. We partner with them to upskill their in-house PR capabilities so that they can reach wider audiences, land more powerful messages and make the most impact.
We have furthered our 250 to 2025 initiative, which encourages diverse candidates into what remains a stubbornly un-diverse PR industry. We have partnered with the Brixton Finishing School to mentor candidates and spoken in schools to reach over 600 people. Further, our 'Untick the Box' podcast series provides a platform for diverse voices.
We're engaging with others to promote the B Corp-nurtured idea that 'good' business is good business. We've supported the Better Business Act – working with our local member of Parliament and speaking at the Palace of Westminster to lobby law and policy makers.
It's been a great year – but B Corp shows us that we can and must always be greater.
Kirsty Leighton
Founder & Group CEO
"Ownership is a powerful concept. Ideas only become reality when we understand and 'own' them. After a year at Milk & Honey I became a co-owner as part of the Employee Ownership Trust. Now, I not only share in the business, but own what it's trying to do. Our people have an additional motivation as we work together to create a better business, activate client purpose and partner with others to build a better world."
"Business is so often seen as the cause of global challenges – but what if we can make it the solution? We believe that 'good' business is good business – that companies with a positive purpose will not only change the world, but make a healthy profit while they're doing it. In fact, we argue that in the very near future, purpose will be essential to profitability."
"The scale of climate change is so daunting that any attempt to mitigate impact can seem insignificant. We believe, however, that collective business action will make a difference. We are plastic and carbon neutral and aim to be water positive by 2030. We won't work with polluting, high carbon businesses but will work with those striving to transition. We can't tackle the climate crisis alone, but we can support and drive a global coalition for change."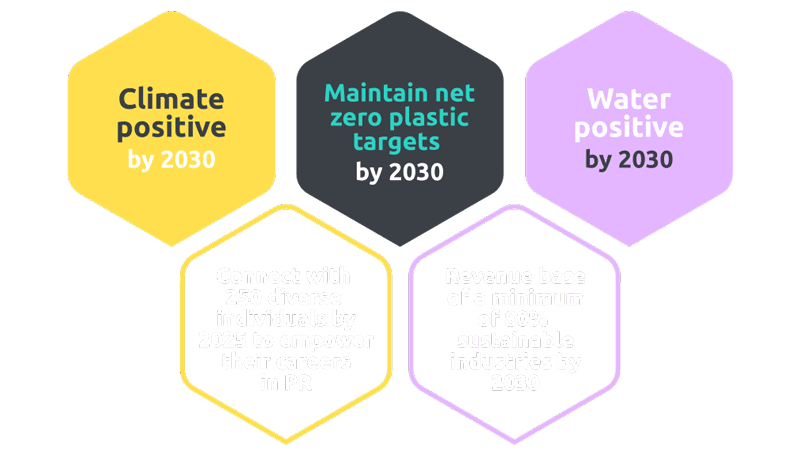 In 2020 we made five specific pledges around shared ownership, plastic neutrality, carbon clients, carbon neutrality and volunteering – making significant progress through to 2023.
1. Increase team ownership to a third by 2021
Significant financial and time investment to create a legal structure allowing staff co-ownership.
As of May 2022, 50% of our people now co-own 55% of the business – exceeding our 2020 pledge.
As of May 2023, 58% of our people now co-own 55% of the business, exceeding our 2020 pledge.
2. Report percentage of turnover from high carbon clients 
Reported 0% revenue from high carbon clients.
High carbon client revenue remains at 0%. Our approach is not a ban – we may work with clients seeking a sustainable transition.
High carbon client revenue remains at 0%. Our approach is not a ban – we may work with clients seeking a sustainable transition.
3. Two days per team member for volunteering and fundraising
In 2021/22 we registered over 270 hours of volunteer and fundraising time. 
Our people significantly exceeded last year's total to register over 453 hours. 
In the past year, we have exceeded last year's total registering over 541 volunteer hours across our global team.
Plastic neutral certification gained from rePurpose Global in October 2020.
We have maintained our neutrality and are now re-certifying to ensure continued compliance.
Following plastic neutrality certification in 2021 and 2022, in 2023 we are working with a new partner, 'Plastic Collective'. It will advise on minimising our plastic usage, while offsetting currently unavoidable consumption, to ensure neutrality.
Achieved and maintained carbon neutrality – planting 2,600 trees to eliminate 195 tonnes of carbon from the atmosphere.
Maintained carbon neutrality – growing our forest to over 7,900 trees to eliminate over 649 tonnes of carbon from the atmosphere.
Maintained carbon neutrality – growing our forest to over 11,670 trees to avoid putting close to 850 tonnes of CO2e into the atmosphere.
In 2023 we continue to pursue our 2021 longer-term pledges.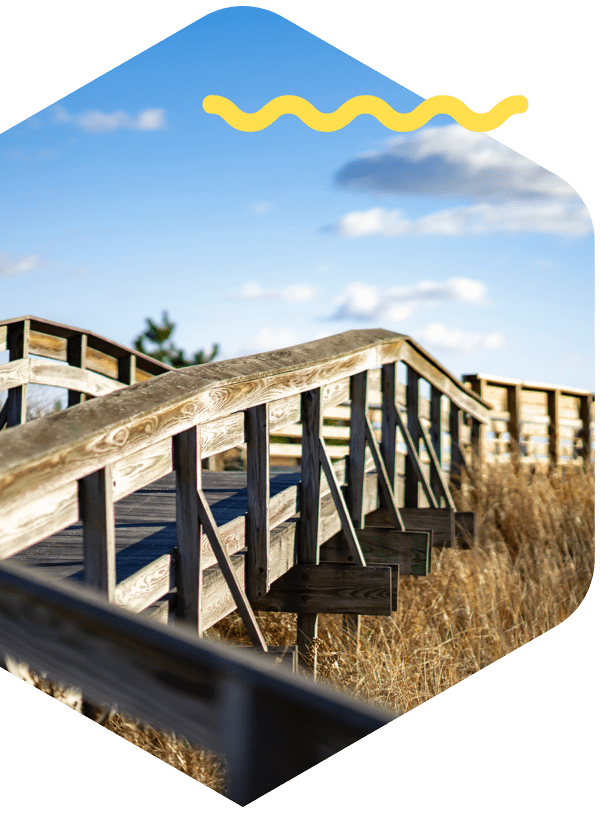 Tackle operational emissions
Establishing the parameters of our current operational emissions - and assessing additional factors such as a possible office move. We carry this forward in 2023/24
Embed ESG reporting & governance
Working to establish these frameworks and will progress in 2023/24
Progress JEDI
Progressing our 250 by 2025 initiative and partnership with the Brixton Finishing School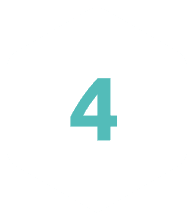 Change-championing leadership
Our Group CEO is a B Leader - with an additional three senior leaders about to embark on the programme
Water positivity
Milk & Honey is working to achieve water positivity by 2030
"Ultimately, we want to be happy in what we do, the people we work with and for – and to have pride in the difference we make every day."
We constantly invest in our people and are lucky to attract some of the best talent in the industry. Despite challenging business conditions in the past year, global headcount has risen from 41 in 2022 to 47 – up by 15%
Milk & Honey Group: remained the same with four
UK: reduced headcount from 28 in 2022 to 23 in 2023
US: up from six in 2022 to seven in 2023
Germany: up from three in 2022 to four in 2023
Five freelancers and four consultants provide support to our global team
Our people's unwavering commitment and astonishing talent have seen 17 promotions in the past year, alongside 23 pay rises.
Pay is calculated using industry benchmarks to ensure competitive salaries. In the last year we made changes to some salary bands to fall in line with industry benchmarking. Our client executive level bands now start at £25,000 and our client director bands start at £48,000. We pay our PR apprentice the London Living Wage – and this is measured against the higher figure set by the Living Wage Foundation, rather than the lower London Living Wage set by government.
Profits – Milk & Honey shares profits with its people when we reach targets.
Flexible working – more of us are taking advantage of our flexible working offer – with, for example, 11% working part time.
Milk & Honey is built by the people who work here – so we have ensured that they own what they make. In August 2021, the agency converted to an Employee Ownership Trust (EOT). In 2023:
Close to 58% of our people now co-own 55% of the business through membership of the EOT
One year of service brings automatic EOT membership
Dividends of up to £3,600 can be paid annually, tax free for the UK team
As of May 2023, Milk & Honey PR employs and enjoys a diverse workforce – driven by diversity in our recruitment practices – to reflect the communities we serve: 
Mental health and wellbeing
As we grow globally, we continue to focus on the mental health and wellbeing support we provide as an agency – ensuring that our people fully understand the services available to them and can access them easily and confidentially.
During 2022, every new starter received an onboarding session with our wellbeing lead, as well as a series of all-agency sessions covering mental health, wellbeing and staff benefits. We trained six new Mental Health First Aiders (MHFAs), as well as a refresher for two of our existing MHFAs. 
Additionally, we wanted to address the most salient issue for many of our team members – time and head space. To do this, in late 2022 we introduced meeting-free Fridays – an opportunity for uninterrupted focus time, to ensure team members can wrap up their weeks in good time. 
It is our people who make us what we are – and a healthy and happy Hive is our first priority. To deliver this we offer:
360 degree health cover, including access to video GPs, vision and dental
An Employee Assistance Programme with a very clear focus on mental health and wellbeing

 

Accredited menopause support
Cancer support
A growing cohort of nine trained mental health first aiders

 

'Bee Good to Yourself' grants to support wellbeing activities
Extended and highly flexible maternity, paternity and carer programmes
Supported social events – including 'cultural escapes'
Death in service insurance
The Hive is a place to learn and a place to grow. 
Investors in People certified and award winning
Personalised training plans
£1,000 training budget
An industry qualification
Mentors
360-degree feedback
Training check-ins
Structured and paid training plans for all interns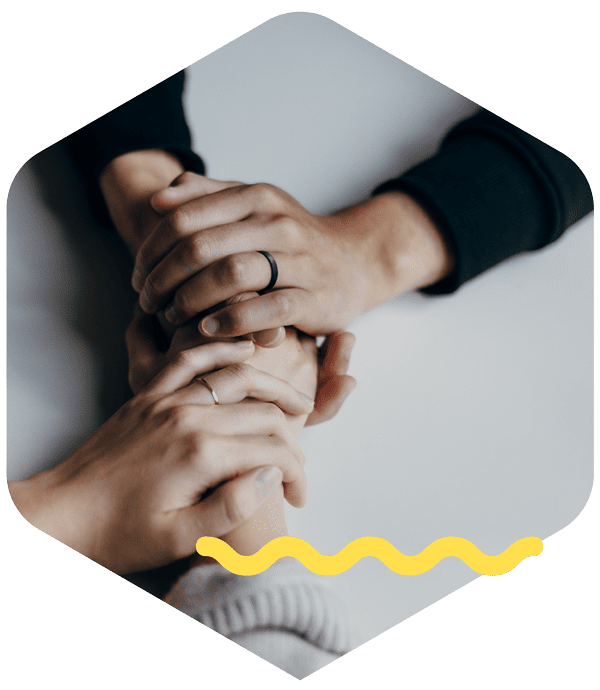 Training spotlight - Zharina Arnaldo
Milk & Honey's commitment to training is one of the cornerstones of its success, and employees are empowered to decide on how to use the allocated training budget.
Last year, our Partner and Global Head of Media Zharina Arnaldo completed the Sustainable Finance course with the University of Cambridge's Institute for Sustainable Leadership. Zharina embarked on this course following her work with clients in impact investing, with a view towards building out the agency's offering.
As a result, Zharina is now working closely with members of the global team to create a new service for clients that will help them achieve profit with purpose, while also contributing to a more sustainable and resilient global economy.
250 to 2025, the Brixton Finishing School and school outreach
In 2020 we launched an initiative to make PR a land of opportunity for diverse candidates. The aim is to reach out to 250 people from diverse backgrounds – through educational outreach, industry collaborations and partnerships with diversity and inclusion organisations – and encourage entry into the PR industry and help to break down barriers to their participation. 
We continue to work with leading diversity and inclusion organisation, 'The Brixton Finishing School', which aims to connect the creative industry with people from diverse backgrounds. The collaboration has seen members of the Milk & Honey team provide expert and detailed mentoring to Brixton Finishing School students – on subjects such as 'Nailing Your Interview', 'Key skills' and 'CV clinic'. The team has also taken part in group mentoring sessions on digital skills and a Black History Month panel, to speak to young talent about working in the industry.
Members of the Milk & Honey team also reach out to their old schools or universities and suggest giving a talk about a career in PR. The talks provide clear and actionable tips for getting started and what a career in PR looks like. By 2023, we have reached over 600 students.
Our people have spoken at events that include:
Marsha de Cordova political summer school
City University London – inclusive career series
University of West London – the agency module
University of Nottingham – careers talk
PRCA Career Development Conference – session on what makes good PR
Taylor Bennett Foundation – masterclass on fashion PR

Over the past year we have continued our partnership with Bees for Refugees, offering strategic advice and support. Alongside this, we have provided content development for their website redesign to help them attract further commercial partnerships.
It's partnership that furthers their aims of supporting refugees in their new communities, bringing benefit to these communities and saving the native British Black Honey Bee. This year we are excited to work with them on their news and storytelling, as well as social media content.
Earlier this year we introduced our Purpose Academy – an initiative to help global charities and not-for-profit organisations upskill their employees, strengthen their PR capabilities and drive their own powerful campaigns. We want to help purpose-led organisations to tell their stories – and realise their life-enhancing aims – more effectively than ever before.
Many organisations focused on building a better world might not be able to access professional PR expertise – but Purpose Academy provides them with the skills they need to help achieve their life-changing goals.
Our Purpose Academy is a six-month programme for six charities and not for profit organisations. It consists of monthly workshops led by professionals across a range of PR and digital disciplines, along with bi-monthly 1-2-1 communications clinics. The series of workshops includes sessions on storytelling, media relations, digital marketing and creative campaigns. To date we have worked with charities and organisations that include Roald Dahl's Marvellous Children's Charity and Mind's Ahead.
Untick The Box is a podcast produced by Milk & Honey PR. We speak to people from diverse backgrounds who have overcome different barriers to get to where they are today – and who now work to make their industry more inclusive. It's a chance to celebrate wins, unpick losses, and ultimately, to explore how people have achieved goals. It's a great way to share advice and insights for those looking to kick-start their careers.
To date we've heard from 10 amazing individuals from the world of PR and Communications, Business, Politics, Finance and most recently, from one of the UK's youngest Imams. Topics covered include how companies can do better when it comes to DE&I, challenges faced by people of colour, changing attitudes towards bisexual men and what it's like to be a Muslim in the UK today.
We believe in B Corp: the power to bring about a better world through better business. Our Group CEO is already an established and enthusiastic B Leader. In 2023/24, the CEOs of our US and German offices will embark on the programme, alongside Partner level participation from our UK office.
Fundraising and volunteering
We have worked with Plan International to advance children's rights and equality for girls in over 80 countries. To date, we've completed two charity auctions raising money for this hugely important cause. This year, we have chosen to evolve this commitment and are working with Plan International to utilise the funds raised to sponsor a group of children from an area in need.
In 2023, we raised an additional £726 through a UK-wide charity auction and we plan to hold additional company events throughout the year to support the charity through our wider network.
We love to support our team members' fundraising efforts and the charities that are close to their hearts.
Petrina Marks raised £1,600 for Cancer Research UK
"Last year, I was diagnosed with breast cancer. It was a shock, but thanks to screening my cancer was found early. I always find that when life throws you challenges, it is best to channel and change negative energy into something positive. Having undergone surgery as part of my treatment, I decided to walk 60 miles with my dog Lola to raise money for Cancer Research UK, whilst at the same time helping myself to heal and get fit again. With the support of over 42 friends, family and colleagues I raised a total of £1,600."
Ashleigh Spiliopoulou raised £700 for Ukraine
Power for Ukraine - 4 in 14 challenge
"In March 2023, I began fundraising for Stay Safe UA, a charity which delivers aid to Ukrainian civilians, including the provision of power generators so that families can cook, wash and stay warm. These generators can cost over £3,000 per month to run. With Stay Safe providing 40KW generators, I decided to take on four challenges in 14 days. 
Ran 40km per week for the two-week challenge
Donated 40 food items to Soup Kitchen London
Held a 40 book second handbook sale on my Instagram channel
Hosted two dinner parties for four people, cooking a three-course meal with drinks
The challenges pushed me, but each time I felt tired I reminded myself what the Ukrainian people were going through. I raised £700 and was glad, in my own small way, to have helped people impacted by war."
North America – care and commitment
Milk & Honey's North American office has committed care and time to its volunteering efforts. The team supports a wide range of organisations:
Food Bank NYC, which distributes nutritious food parcels to people in need across the city.
Team TLC, which is a grassroots organisation that supports asylum seekers and migrants.
Van Cortlandt Park Alliance (VPCA), which works to protect the Natural Areas Educational Garden of the 1,146 acres of Van Cortlandt Park.
Project Underdog, which works to introduce legislation designed to protect dogs from abuse – giving a voice to the voiceless.
The Better Business Act (BBA) is a campaign supported by over 1,000 UK businesses – with the aim of mandating companies to place people, profit and planet at the heart of their purpose. We have joined the BBA and lobbied MPs in the House of Commons – most recently in April 2023. We connected with our local MP Marsha de Cordova, who supports the BBA, and she visited our offices in Battersea to take discussions further.
In November 2022, members of the Milk & Honey team attended the Living Wage Summit held in London. The event promoted action to ensure that people are paid a fair wage for a fair day's work. It was a great platform to explore new ideas, thought leadership and for multi-stakeholder dialogue about the role of business in eradicating poverty and inequality.
B Corp 1,000 x Better - a night at the museum
For the first time on 24 November 2022, the B Corp community came together at the iconic Natural History Museum to celebrate the extraordinary milestone of 1,000 B Corp businesses. It was an opportunity to get directly involved in shaping the B Corp community and helping to lead conversations with others balancing profit with planet and people. It was also a fantastic opportunity to meet and share experiences with like-minded B Corp businesses. In the words of one of the speakers "To change the world, you've got to throw a better party than those destroying it." And we did.
"I was totally inspired by attending the 1000x Better B Corp event. To be amongst a community all moving towards a common goal of better business was so exciting. The speeches by the leaders of B Corp organisations re-energised me. From set-up to close, it was a hugely positive evening which I felt lucky to be part of." Ashleigh Spiliopoulou
"The B Corp 1000 Better Business event was a wonderful opportunity to network with and meet individuals from like-minded companies. Gaining a B Corp certification takes real ambition and dedication, and it was truly inspiring to hear how the businesses who attended are going above and beyond for their employees and the planet." Caroline Fisher
Since 2013, B Lab Europe has mobilised European businesses to join the B Corp community and take collective action to address society's most critical challenges. B Corp has celebrated the milestone of over 1,000 companies and our German team has now joined this growing movement transforming 157 industries in 26 European countries.
Menopause Charter
The 'Wellbeing of Women' advocacy group launched a campaign to raise awareness and lobby businesses to support women as they experience the menopause. We have signed the pledge, committing to: recognise that women need specific support; talk openly, positively and respectfully about the menopause; and actively support women affected by the menopause.
Working with Cancer Pledge
Half of us will get cancer in our lifetime, yet half of us will be afraid to share this fact at work – despite the fact that 92% of patients believe the support they get at work positively impacts their health. We've joined the Working with Cancer Pledge to build a supportive workplace for those who are living with cancer. The Pledge encourages leaders and companies to help abolish the stigma and insecurity that exists for people with cancer in the workplace. We stand together to provide a more open, supportive and recovery-forward culture at work for all employees with cancer. #workingwithcancer
Pregnancy Loss Pledge
Milk & Honey supports the Pregnancy Loss Pledge, led by the Miscarriage Association. As part of the Pledge, we show empathy and understanding towards people and their partners experiencing pregnancy loss, have implemented a pregnancy loss policy and are mindful of the needs of partners, too.
We work with Ecologi – a global organisation that provides impactful and practical responses to climate change. Since we started working with Ecologi, we have been certified as carbon neutral and have: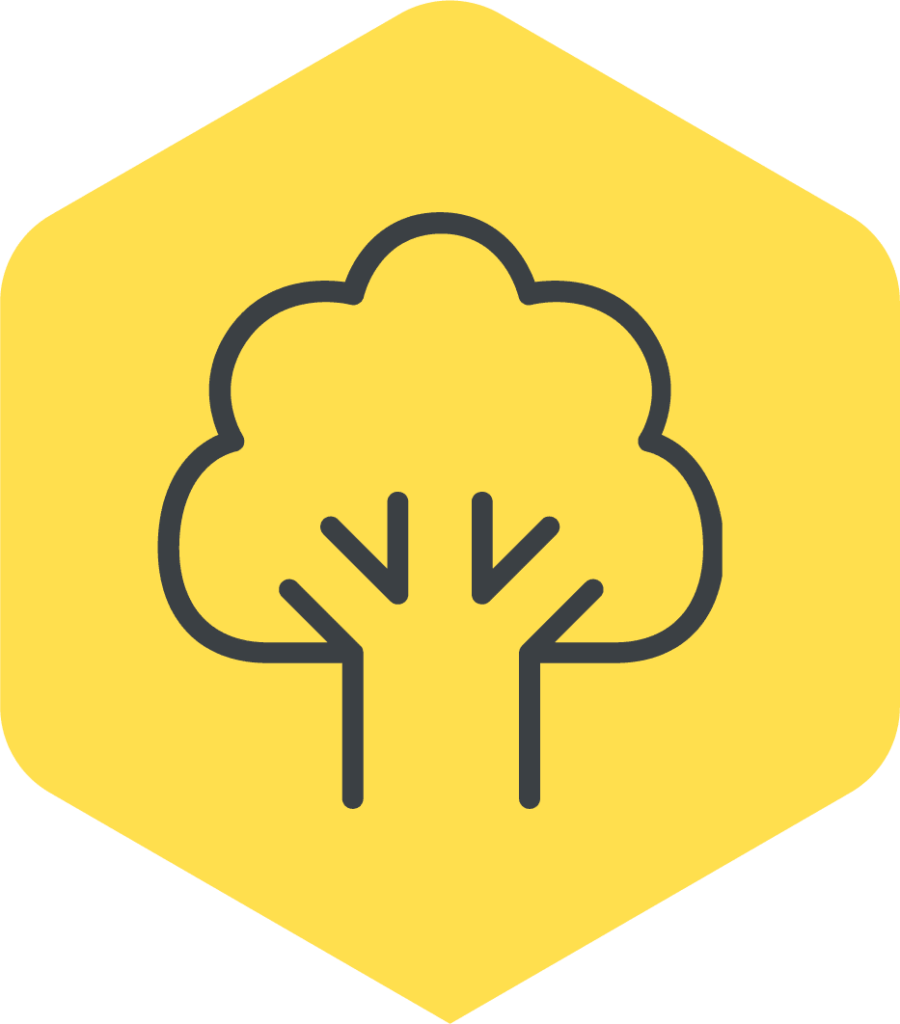 tonnes of CO2e going into the atmosphere
clean energy projects in countries such as Boliva, Ethiopia and Argentina
Following plastic neutrality certification in 2021 and 2022, in 2023 we are working with a new partner, 'Plastic Collective'. It will advise on minimising our plastic usage, while offsetting currently unavoidable consumption, to ensure neutrality.
Terra Carta is a voluntary roadmap of ambitious but practical action — a recovery plan for nature, people and planet. We have adopted our own Terra Carta commitments and support clients to adopt these within their own business models. 
We will never work with organisations that harm people or the planet. To ensure we keep to this commitment, our Board monitors high carbon clients. While we maintain a 0% high carbon client portfolio, we would be willing to work with organisations genuinely committed to sustainable transition.
Percentage of our revenue
B Corp gathering momentum
B-Corp's comprehensive measurement helps us to monitor progress and maintain momentum.
We work to further the UN's Sustainable Development Goals — designed to support people across the planet. We have a specific focus on:
GOAL 3: Good health and wellbeing.
ACTION: We have trained nine team members as Mental Health First Aiders to watch for early warning signs, listen to our team's concerns and act as a gateway to specialised support. We've also introduced a library of useful resources, including healthcare provision. This year recognised as Workplace Champions by PRCA and Best Places to work by PRWeek and Campaign Magazine.
GOAL 5: Gender equality.
ACTION: globally, our support for Plan International Group supports the rights and opportunities of girls and women across the globe. Within the Hive, we have a 100% female UK board and no gender pay gap.
GOAL 8: Decent work and economic growth.
ACTION: Milk & Honey has maintained profitability throughout a challenging 2022, creating additional jobs and enjoying significant economic YoY growth across the group, being recognised by Financial Times as one of Europe's fastest growing companies for a second year. We now have entities in UK, US, Germany and planning an opening in Singapore this Summer.
GOAL 10: Reduced inequalities.
ACTION: our focus on diversity and inclusion works to eliminate inequality. Moving beyond Milk & Honey, we have committed to reach out to 250 diverse individuals and support their entry into the PR industry by 2025. To date we have actively engaged with 600 individuals via school and university visits, mentoring via Brixton Finishing School and in our local community.
GOALS 12 & 13: Climate action/Responsible production and consumption.
ACTION: our work with partners such as rePurpose/ Plastic Collective ensures that we are plastic neutral. Further partnership with Ecologi and commitments to initiatives such as Race to Zero are helping us to work towards the elimination of scope 1 & 2 emissions across our operations.
Previous People, Purpose, Planet reports