Introducing Untick The Box
We're proud to unveil our new podcast, Untick The Box, to give a platform to underrepresented voices and inspire people from diverse backgrounds to enter and succeed in new industries.  
As the name suggests, the podcast seeks to highlight and reimagine diverse talent beyond a box-ticking exercise. It seeks to do this by allowing people to learn from the experiences of leading diverse industry voices. 
We'll be chatting with people from a range of sectors, to discuss the highs, lows and changes they want to see for this generation and the next. Untick The Box aims to be inspiring, thought-provoking and hold up a mirror to different industries, to show them how they can better support people from all backgrounds to overcome challenges and allow them to succeed.  
Our first guests
Sheeraz Gulsher, co-founder of People Like Us, Alex Kolawole, PR Week 30 under 30 2021 nominee and Sarah Waddington CBE, co-founder of Socially Mobile are among the first guests of the podcast. There will be a new episode every month, with the intention to increase the number of monthly episodes as the podcast grows. 
Untick the Box is hosted by our own Eloise Clarke and Maz Chowdhury, and is available to download and stream through Apple Podcasts and Spotify.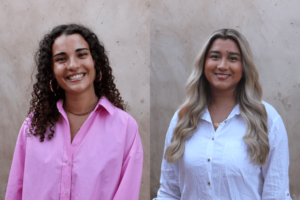 Eloise Clarke, client manager and co-host of Untick The Box, said: "PR, like many other industries, has a diversity problem and as a result is often perceived as somewhere diverse candidates won't thrive. If we want to encourage greater diversity across sectors, it's important that everyone, no matter their background, feels a sense of belonging in their place of work.  
"By shining a light on underrepresented voices, we hope that more people will see themselves reflected in an industry they might not have considered previously." 
The launch of Untick The Box is part of our diversity commitment to reach out to 250 people from diverse backgrounds, mapped out in the 2022 People Purpose Planet report. Through educational outreach, industry collaborations and partnerships with diversity and inclusion organisations, we are working to help break down barriers to their participation.   
How to stream
Stream or download the first episode of Untick The Box with guest, Sheeraz Gulsher, now on Apple Podcasts and Spotify.  
If you have any enquiries or are interested in being a guest, please email: untickthebox@milkandhoneypr.com or contact our DMs on LinkedIn, Instagram or Twitter.